Representatives of Valero's Texas City refinery recently joined administrators, teachers and staff of Texas City ISD, as well as the board of the district's foundation, for the unveiling of a $90,000 forklift at the district's Industrial Trades Center (ITC). The forklift, which was funded through a grant from the Valero Energy Foundation, will provide students at the ITC with hands-on training as they prepare to enter the workforce.
"Due to this generous donation from Valero, the ITC students will have an opportunity to include telescopic forklift training to their 40-hour OSHA forklift certification," said Richard Chapa, the district's director of career and technical education. "The ITC students will become more marketable in the industrial trades job market with this addition."
The effort is in keeping with Valero's companywide efforts in workforce investment, with other efforts ranging from scholarships for students with a GED to local colleges in Corpus Christi to sponsorship of a trades workshop and girls STEAM summer camp at Benicia with the Solano County Office of Education.
At Wilmington, Valero helps underwrite a breadth of workforce development programs at EXP, a local nonprofit that ties the industry's need for skilled workers with local high school graduation, and supports activities from environmental leadership programs to job-skills workshops and paid internships. EXP credits Valero with enabling interns to graduate high school at a 97% rate, compared with 78% in Los Angeles overall – with some alumni going on to work at Valero in technical and business roles.
In Texas City, the Valero Energy Foundation was a founding donor of the ITC with an investment of $250,000, demonstrating the company's commitment to ensuring students have marketable skills that can make them successful members of the workforce, which in turn drives a healthy local economy. The ITC, which opened in 2017, conducts hands-on training in trades including maritime, construction, welding, pipefitting, instrumentation and electrical, and machinist.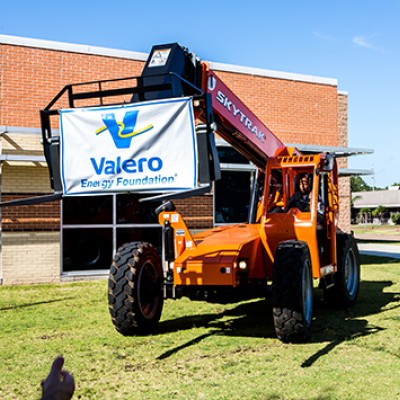 "We know that education in trades are a key driver of having a vibrant workforce here in this community. This donation demonstrates Valero's commitment to ensuring that students in Texas City and the Galveston County area have access to the highest quality of hands-on education."
Sal Viscontini
Senior Vice President and General Manager, Texas City Refinery